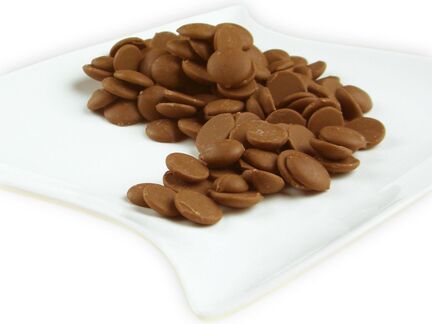 (copy) (copy) (copy) (copy)
€ 6,67
Item number: DK59-10927
Chocolate with cappuccino flavour


Weight: 0,2 kg.
Prices are incl. VAT
Mix milk and white chocolate with coffee.

Flavoured Callets from Callebaut offer the best of both worlds: delicious milk chocolate, enriched with a touch of caramel, cappuccino or honey.
They are perfect for exciting new flavours with cakes, chocolate, mousse, creams, chocolate bars etc. You'll be thrilled!


Shelf life:
at least 2 months from delivery of the goods

Ingredients:

Sugar, cocoa butter, whole MILK POWDER, cocoa mass, coffee 2,0%, emulsifier: SOJALECITHIN; Instant coffee, natural vanilla.

Nutritional content:
Figures are average values and are subject to natural variations Reference amount.
Content per 100 g
| | |
| --- | --- |
| Energy (kilojoules) | 2362 kj |
| Energy (kilocalories, 1 kcal = 4,1868 kJ) | 564 kcal |
| Fat | 36,1 g |
| Of which saturated fatty acids | 22,9 g |
| Carbohydrates | 52,2 g |
| Of which sugars | 51,5 g |
| Eggs white | 6,6 g |
| Salt | 0,1 g |