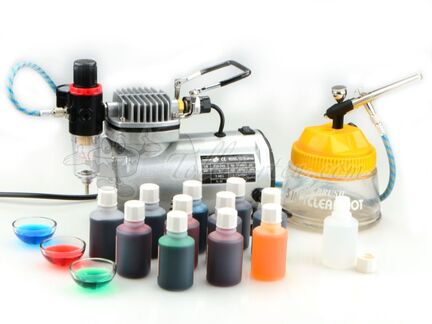 Airbrush Professional Set
€ 239,18
Item number: MK013068
Compressor, pistol, colours and cleaning equipment

Weight: 5,5 kg.
Prices are incl. VAT
With this set you will receive professional airbrush equipment: airbrush compressor TC-20 as well airbrush pistol with double action by Harder & Steenbeck, 11 highly efficient colours, airbrush cleaner and airbrush cleaning pot. The high quality airbrush compressor TC-20 supplies a constant airflow and provides reliable performance; air flow: 0.81-0.88cfm.
The compressor is oil- and maintenance-free and suitable for art, hobby, make-up, finger nails, bodypainting and of course cake design.
Delivery including supply for airbrush pistol.
Airbrush flow system by Harder & Steenbeck; quality product "Made in Germany". Airbrush pistol incl. plug-in cup 2ml with lid.
The pistol has a double action function . By pushing the lever the air flows through the pistol. By pulling the lever you are able to control the supply of paint. This function enables to work precisely and professional.
You will receive 50ml airbrush cleaner and a practical cleaning pot for cleaning the equipment.
Furthermore you will obtain 11 professional colours of 50ml each in: yellow, orange, golden brown, green, skin, rose, red, purple, blue, chocolate brown and black.
Please find following the complete content of the set:
airbrush compressor TC-20
airbrush pistol Harder & Steenbeck
airbrush cleaner 50ml
airbrush cleaning pot
food colour yellow 50ml
food colour orange 50ml
food colour golden brown 50ml
food colour green 50ml
food colour skin 50ml
food colour rose 50ml
food colour red 50ml
food colour purple 50ml
food colour blue 50ml
food colour chocolate brown 50ml
food colour black 50ml