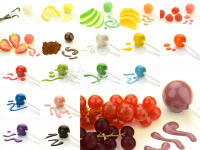 Cake pop glaze 8 x natural flavours (copy)
615,00 DKK
Item number: MK12580
Cake pop glaze 8 x natural flavours
Practical glaze of natural aroma


Weight: 270 kg.
Prices are incl. VAT
We have composed an economy pack of our 8 natural flavour cake pop glazes 260g eac.

The glaze will be delivered in a practical microwave cup. Heat the glaze at low level in the microwave or in the water bath (approx. 40°C). Dip the cake pops in the glaze. Decorate the cake pops with sugar crystals or pearls before the glaze gets hard. Also suitable for covering cakes or tarts. You do not need to use up the glaze all at once. Also if it got hard it can be heatened again.
Ernæringsindhold:
Tellene er gennemsnitsværdier og er udsat for naturlige udsving referencebeløb.
Indhold pr. 100 g
| | |
| --- | --- |
| Energi (kilojoules) | 2458 KJ |
| Energj (1 kcal = 4,1868 kj) | 587 kcal |
| Fedt | 42,9 g |
| Hvoraf mættede fedtsyrer | 38,9 g |
| Kulhydrater | 48,7 g |
| Hvoraf sukker | 47,2 g |
| Protein | 2,8 g |
| Salt | 0,0 g |