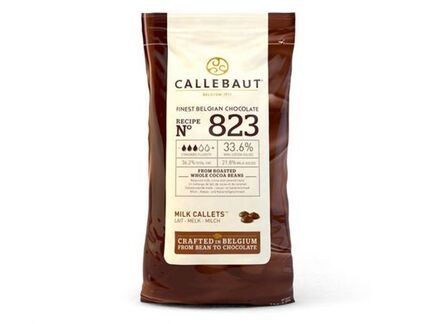 Callebaut chocolate whole milk 1 kg
€ 18,02
€ 15,02
Item number: 15515
Couverture in the form of callets

Weight: 1,1 g.
Prices are incl. VAT
Description
Food information
Callebaut offers a wide range of light chocolates, from sweet to creamy and with a sophisticated touch of caramel. Each recipe is unique and made from premium cocoa beans from the best harvesters in the world. In addition, Callebaut uses only 100% pure cocoa butter, enhancing the caramel note.

Cocoa content: min. 31,7 %
Milk content: min. 22,2

Ideal for making pralines, cakes and desserts.
Also perfect for hot chocolate.

Temperature curve:
Melting temperature: 45 °C
Crystallisation temperature: 27 °C
Working temperature: 29 - 30 °C

The Callebaut brand is now 100% sustainable!

What does it mean exactly? Cocoa and chocolate products can be traced back to cocoa farmers' cooperatives! Through cooperation with Cocoa Horizons Foundation a non-profit organisation, the manufacturer ensures that sustainably grown beans are purchased directly from registered farmer groups. The Cocoa Horizons programme promotes cocoa farmers' livelihoods by creating self-sustaining communities that protect nature and children.



Ingredients:
Sugar, cocoa butter,
WHOLE MILK POWDER
(22.0%), cocoa mass, emulsifier:
SOJALECITHIN
; natural vanilla flavor. May contain traces of
nuts
and other oil seeds.
Nutritional information: 100g contain on average:
Calorific value:
2362 KJ /

564 kcal
thereof healthy fatty acids:
22.7 g
Det vil måske også interessere dig