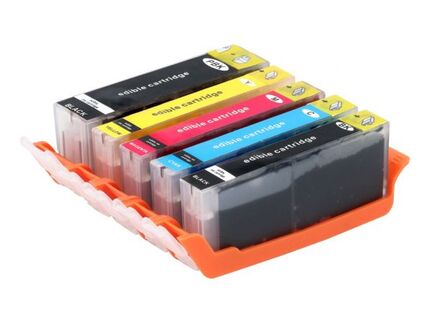 Cartridge set (PGI-580, CLI-581Bk-C-M-Y)
€ 41,30
1 review
Item number: MK16189
Black wide + narrow, cyan, magenta, yellow




Weight: 0,06 kg.
Prices are incl. VAT
Description
Ingredients and Nutritional Information
Food cartridge for printing on fondant paper or transfer sheets.
The food ink was specially developed to achieve an optimal print result on transfer sheets, fondant and edible paper.
Number: PGI-580 Bk, CLI-581 Y, CLI-581 M, CLI-581 C, CLI-581 Bk
Colors: black wide, yellow, blue, red, black
Chip: Yes
Design: 1x wide + 4x narrow
suitable for the following Canon PIXMA printer models:
TR7550, TR8550, TS705, TS6150, TS6151, TS6250, TS6251, TS6350, TS6351, TS8151, TS8250, TS8251, TS8252, TS8350, TS8351, TS8352, TS9150, TS9155, TS9550, TS9551C
Note: Make sure your printer model requires 4 or 5 ink cartridges: cyan, magenta, yellow, black (narrow cartridge), and black (wide cartridge). Some 5-cartridge print models only work when all 5 cartridges are installed.
Ingredients:
Water, emulsifier: E152; humectant: E422; colouring agents: E151, E110 *, E104 *, E102 *, E122 *, E133; acidity regulator: E330(* may impair activity and attention in children)
Shelf life:
at least 12 months from delivery of the goods
Nutritional information:
100 g contains on average:
Calorific value 314 KJ / 75 kcal
Fat 0 g
of which total Fatty acids 0 g
Carbohydrates 0 g
Protein 0 g
of which sugar 0 g
Salt 0 g
Det vil måske også interessere dig