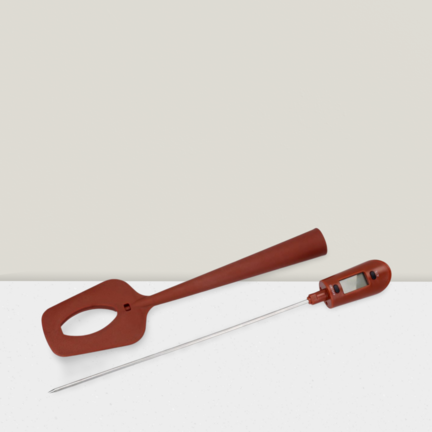 Chocolate Thermometer Silikomart
€ 25,38
€ 20,14
Item number: MK10956
Thermometer stirring spatula

Weight: 0,25 kg.
Prices are incl. VAT
Thermometer stirring spatula for stirring and monitoring the temperature of foods (cream, sauces, sugar, chocolate, etc.) directly in the cooking vessel or water bath. Total length 32 cm.
Stirring spatula:
Made of silicone heat resistant up to 300°C. The spatula is durable, solid and can be cleaned in the dishwasher (make sure to remove the measuring unit when cleaning in the dishwasher).
Thermometer:
- Integrated and removable
- Temperature range from 0°C to 300°C
- Measurement interval 0.1°C
- Measurement accuracy 1°C
- Splash-proof
- not dishwasher safe