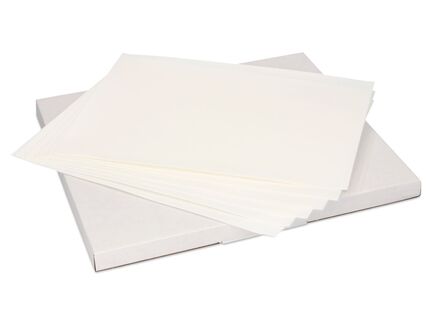 Fondant paper A4 (20x30cm) 25 pcs
€ 28,50
Item number: MK12358
Fondant paper A4 (20x30cm) 25 pcs
For painting and printing



Prices are incl. VAT
Description
Food information
Size: approx. 20x30 cm
Quantity: 25 sheets.
Those who create wonderful cakes, cupcakes and co., would like to give them a personal touch. This is best achieved with edible cake spreads that are individually designed. The easiest way to make such overlays is to print or paint special fondant paper with your own food colouring and cut or die-cut to the desired size. If you buy our exclusive fondant paper, you can easily make an eye-catcher on your coffee table and let your creativity run free.
DIN A4 fondant paper for printing and painting
On birthdays, weddings or anniversaries, personalised cakes are particularly popular. If you use special ink cartridges filled with edible colours, you can easily print beautiful photos and beautifully designed lettering on the edible paper. Of course, you'll also find the right edible ink cartridges for your printer in our range. We are happy to advise you on your choice.
The cookies can not only be printed, but also painted with edible frve paint. Children especially love it when they get to design tasty cakes themselves. Gifted parents and grandparents appreciate such sweet delicacies and are very happy with a personalized cake in this way.
Creative cake toppers: also suitable for cream pies

If you are placing your personalised cake topper on a cream cake or other watery surface and the sweet treats should not be eaten immediately, first impregnate the sugar fondant with gloss spray. This way, softening is delayed and you enjoy your fondant paper longer. Buy our gloss spray from us!


Ingredients:
Modified starch: E1422, E1412; maltodextrin, glycerol, sugar, thickeners: cellulose, gum arabic, xanthan gum; dextrose, colour: E171; emulsifiers: E435, E471, E491; preservative: E202; flavour: vanillin; acidity regulator: E330.
Nutritional content per 100 g:
of which total fatty acids:
0 g