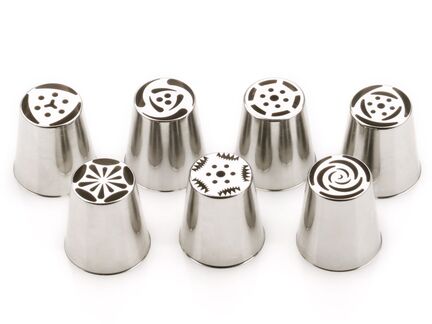 Icing Nozzles Flower Tips Set of 7
€ 27,63
Item number: 13590
Prices are incl. VAT
Icing flower nozzles set of 7. With these nozzles you can garnish wonderful flowers in one step. These nozzles are also known as Russian tulip nozzles or tulip nozzles.
- Material: stainless steel
- rustproof
- Total height: 40mm
- Bottom diameter: 35mm
- Opening dimension: 25mm
- drawn from one piece; no annoying seam
This set includes the following Russian flower nozzles:
- Star magnolia
- wild tulip
- rose
- Autumn crocus
- daffodil
- tulip
- Parrot tulip
To make the flower in two colors, color one portion in the outer color and another portion in the inner color. Now take a piping bag and insert the nozzle. Now fill the mass with the first color into the piping bag and distribute it on the edge of the piping bag so that there is space in the middle. Now fill the mass with the second color into a second cone (without nozzle). Now inject the mass with the second pointed bag in the middle and up to the tip of the first piping bag. Now you can garnish the flowers in two colors.
For the green leaves, as shown in our example, please use our leaf grommets.