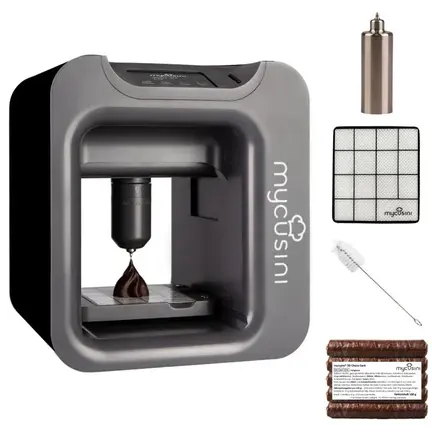 mycusini® 2.0 3D Chocolate Printer
Deep Black
€ 536,39
Item number: 63
Professional technology for the home

Custom 3D templates
Guaranteed success

Prices are incl. VAT
Description
Characteristics
You can find more information about the 3D chocolate printer mycusini 2.0 here
YOUR ADVANTAGES
mycusini 2.0 combines timeless design with vibrant pink - an icon among kitchen appliances
Large 3.5" touch colour display for quick access to the integrated template library with more than 1,000 creative objects, including object preview
Integrated lighting with exciting lighting concept
Easy cleaning thanks to rounded corners, print platform can be removed for cleaning
mycusini 2.0 works with special 3D Choco Refills included - for an immediate feeling of achievement
Free access to the mycusini Club. Very easy creation of 3D objects, individual letters and names
No bigger than a coffee machine and an eye-catcher in any kitchen
Scope of delivery
| | | | |
| --- | --- | --- | --- |
| Product | | Quantities | |
| | Starter | Comfort | Premium |
| Free access to mycusini Club | Yes | Yes | Yes |
| Removable pressure plate | 1 | 1 | 1 |
| 12 V power supply unit with national plug | 1 | 1 | 1 |
| SD card with over 1000 3D templates (incl. SD card reader USB | 1 | 1 | 1 |
| 3D template overview, brochure with all 3D objects on SD card | 1 | 1 | 1 |
| stainless steel cartridge | 1 | 2 | 2 |
| silicone mat | 1 | 3 | 3 |
| 3D Choco Dark for 10 cartridge fillings | 1 | 3 | 5 |
| cleaning tweezers standard | 1 | 1 | x |
| stainless steel tweezers | - | - | 1 |
| 3D recipe book | - | - | 1 |
| gift packaging Butterfly (4 pcs.) | - | - | 1 |
| 3D praline filling flavour set (4 flavours, 2 portion boxes of 30 g) | - | - | 1 |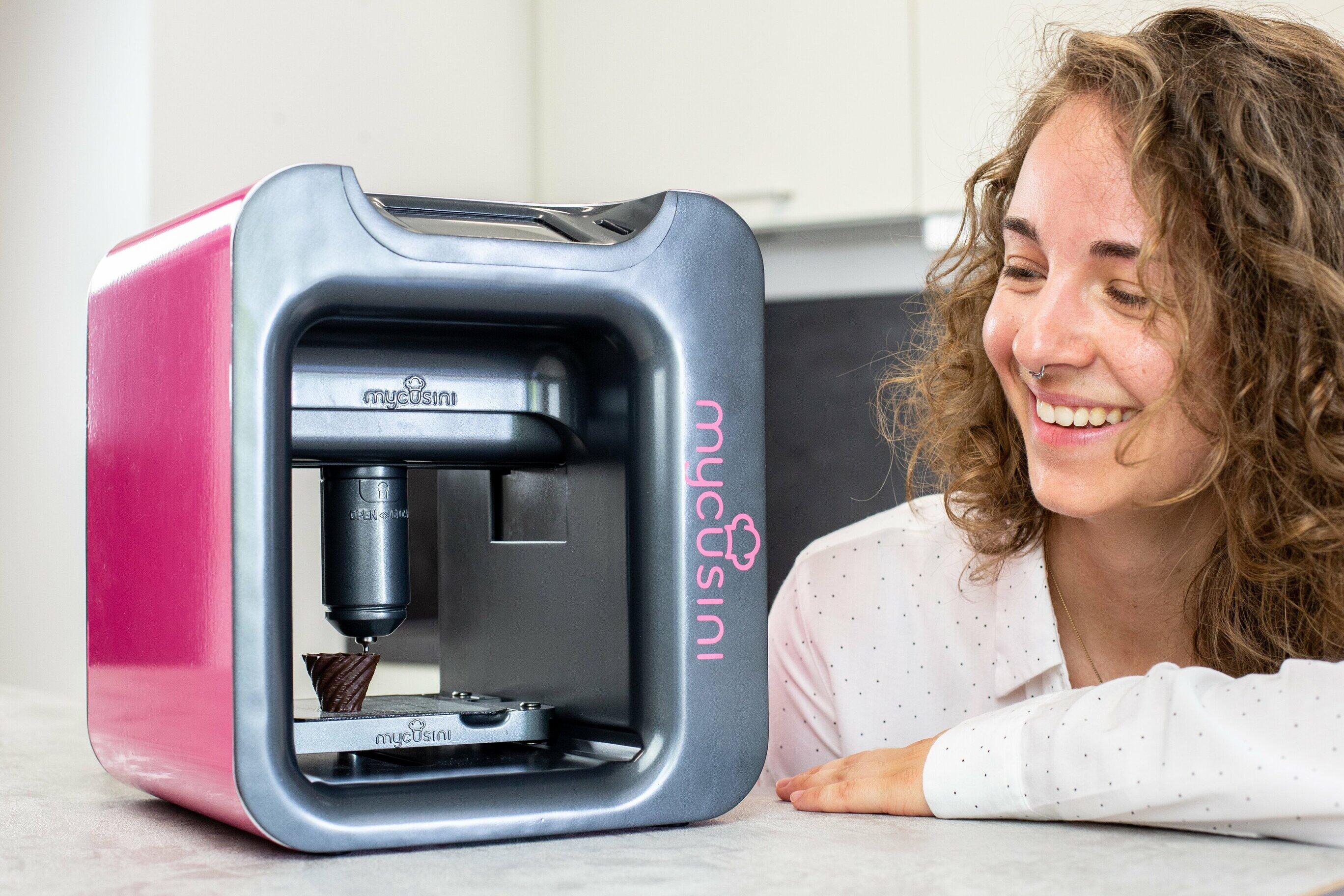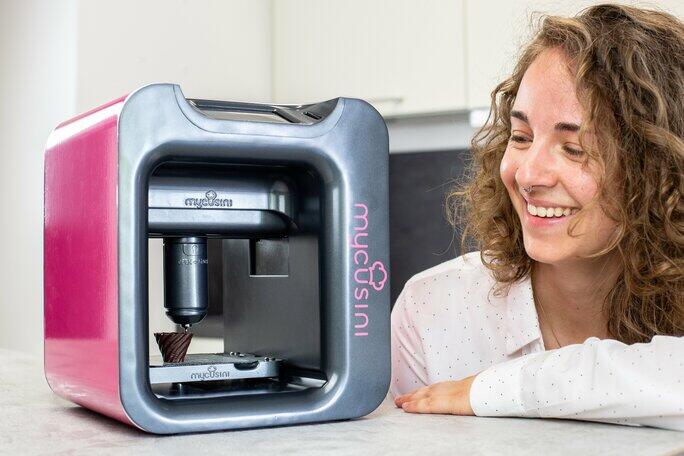 NOW is the time! We ship before Christmas.
Secure a mycusini® 2.0. now.
the new generation is the result of our own experience, a lot of customer feedback from users of the first generation and a lot of heart and soul.
the work has paid off. We're proud of the incredible feedback we've received from the first customers for the new mycusini 2.0 product generation.

See the benefits of the new generation and convince yourself.
YOUR BENEFITS:
mycusini 2.0 combines timeless design with vibrant pink - an icon among kitchen appliances

Large 3.5" touch colour display for quick access to the integrated template library with more than 1,000 creative objects, including object preview
Integrated lighting with exciting lighting concept
Easy cleaning thanks to rounded corners, production platform can be removed for cleaning
mycusini 2.0 works with special 3D Choco Refills included - for an immediate feeling of achievement
Free access to the mycusini Club. Very easy creation of 3D objects, individual letters and names
No bigger than a coffee machine and an eye-catcher in any kitchen
Overview
Features and benefits
Easy to use
3D templates
Cleaning
mycusini® 2.0 - Features and benefits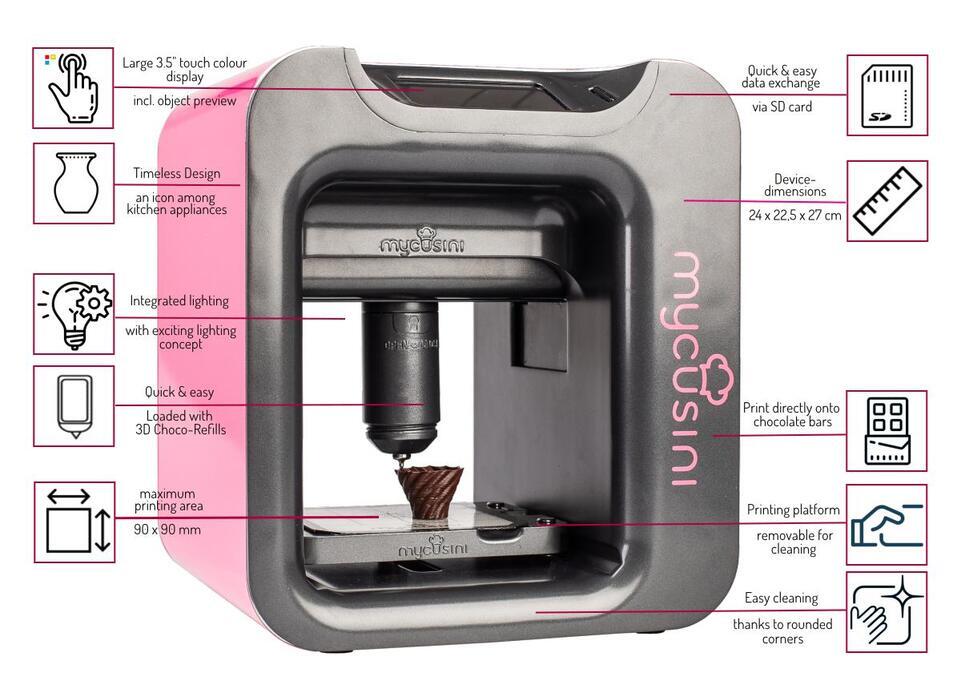 * The "Print directly on chocolate bars" function will not yet be available in the first devices, but will be made available via an update.

Easy to use
Insert mycusini 3D Choco
preheat briefly
Select the desired object on the display and start
Here we go



Over 1,000 3D templates


Get started right away and select one of over 1,000 3D templates directly from the mycusini display.
It couldn't be easier.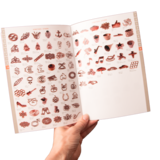 Overview of templates for convenient selection
The attached brochure lists all 3D objects with an image and Choco consumption information.