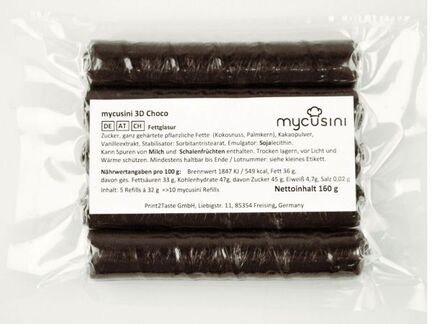 Mycusini 3D Chocolate Refills, 10 pcs 10x16g = 160g
€ 8,74
Item number: NK10250
Volume discount
When purchasing 3: € 8,20
Chocolate for the 3D printer mycusini

Weight: 0,18 kg.
Prices are incl. VAT
Optimized for mycusini - with mycusini guaranteeing success for the best possible results.
3D Choco comes in convenient, ready-to-use refills. Just plug it in and there you go.

Pure flavor. Refined with a hint of real vanilla - for sensual pleasure. Music on the tongue.

Perfect for cakes, ice cream and cupcake decorations, as well as for a personalized gift.

One pack contains 5 refills of 32 g each. Makes 10 cartridge fills (fills split in the middle).

Make 3-10 items with only one cartridge backfill, depending on the height of the item.

Customer reviews
Be the first to review this item