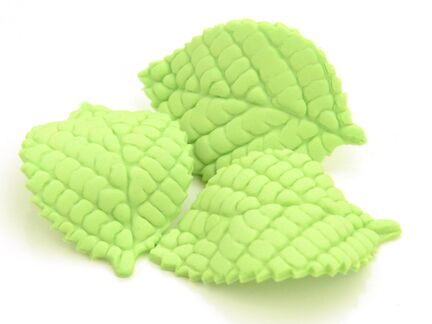 Sugar leaves 10pcs
29,50 DKK
Item number: MK11887
Spiselige blade fremstillet af fint sukker

Prices are incl. VAT
Description
Mad oplysninger
Large leaves made of fine sugar with a lifelike structure for attractive and effective decoration and as a complement to our various flowers and roses.
You get 10 leaves
Length: approx. 45 mm
Width: approx. 30 mm
Height: approx. 2 mm
Colour green
Ingredienser:
Sukker, glukosesirup, gelatine, Carthamus koncentrat, farvestof: E 132. Kan indeholde spor af gluten, mælk, æg og soja komponenter og nødder.
Ernæringsmæssige oplysninger:
100 g indeholder i gennemsnit:
Brændværdi 1711 KJ
409 kcal
Fedt 1,2 g
heraf i alt Fedtsyrer 0,6 g
Kulhydrater 96,4 g
Protein 1,6 g
heraf sukker 93,3 g
Salt 0 g