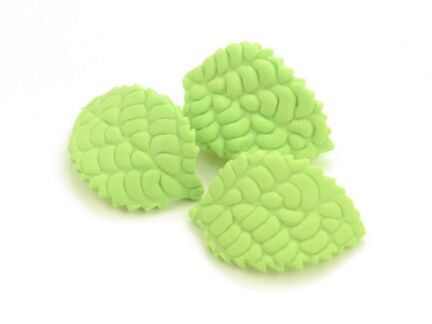 Sugar leaves 15 pcs
€ 3,59
Item number: 12081
Edible leaves made from fine sugar


Prices are incl. VAT
Description
Food information
Small fine sugar leaves with a lifelike structure to complement our various flowers and roses as well as for an attractive and effective decoration...

You receive 15 leaves
Length: approx. 30 mm

Width: approx. 20 mm

Ingredients:
Sugar, glucose syrup, gelatine, Carthamus concentrate, colouring: E 120, E 132, E 150d, E 160a, E 172.
Nutritional content per 100 g:

Energy: 1714 KJ / 409 kcal
Fat: 1,3 g
of which total fatty acids: 0,9 g
Carbohydrates: 96.4 g
of which sugar: 93,1 g

Protein: 1.6 g
Salt: 0 g
Det vil måske også interessere dig