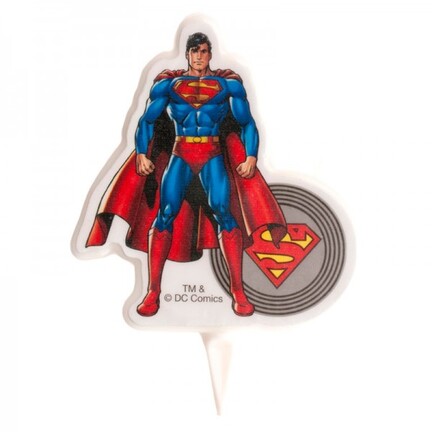 SUPERMAN CANDLE
€ 3,76
Item number: MK346134
The perfect cake topper for Superman fans
Burns evenly
A beautiful motif
Suitable for tarts, cakes and cupcakes
Weight: 0,032 kg.
Prices are incl. VAT
Nu har vi lige det rigtige fødselsdagslys til alle Superman, store og små!
Hvad med en Superman kage til børns fødselsdagsfester til dine små? Du skal blot dække kagen med blå fondant og hvid premium fondant, derefter sætte lyset på kagen, og superheltkagen er klar.
Important:
- Do not leave candles unattended.
- The burning candle must be out of the reach of children or pets.

- The burning candle does not have to be on or in the vicinity of easily combustible materials.
- Please always leave a distance of at least 5 cm between burning candles.