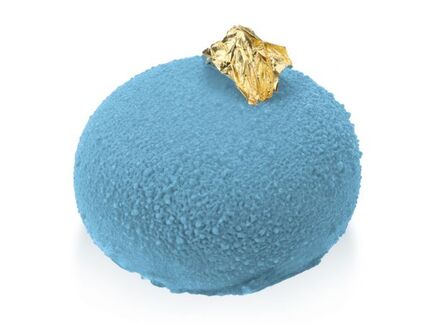 Velvet Spray Baby Blue 400ml
€ 20,28
Item number: 17145
For Velvet effect on cakes, desserts and ice cream




Weight: 0,42 kg.
Prices are incl. VAT
Description
Food information
Instruction
Safety instructions
Food colouring for spraying; based on cocoa butter

Give your cakes, desserts or ice cream a unique look: spray the frozen or refrigerated products with Velvet Spray. Small quantities are sufficient to obtain a rough, coloured texture with a unique look. The spray is very economical and contains only high-quality cocoa butter and food colouring.

Quantity: 400 ml spray can


Please observe the safety instructions when purchasing spray cans.

Due to the flushing fog, we recommend that the product is used in well-ventilated rooms or outdoors. We recommend that you wear a face mask.

Ingredients:
Cocoa butter; Powders: E943a, E944, E943b; Sunflower oil; Colour: E133
Nutritional content per 100g:
Energy: 3700 KJ / 900 kcal
Fat: 100 g
of which total fatty acids 60 g
carbohydrates 0 g
of which sugar 0 g
Protein 0g
salt 0 g
Shake well before use.
Ensure that the product has been liquefied (the cylinder must have a temperature between 25 °C and 35 °C).
Heat the can to a maximum temperature of 35 °C to melt the cocoa butter (must become liquid) and spray on frozen products.
Danger! Extremely flammable aerosol. Container is under pressure: may burst on heating. Keep out of the reach of children.
Store away from heat, hot surfaces, sparks, open flames and other sources of ignition.
Do not smoke. Do not spray on open flames or other ignition sources.
Do not pierce or burn, even after use.
Protect from sunlight. Do not expose to temperatures above 50°C/122°F.
Dispose of contents/container in accordance with local regulations.
Maximum dose: Do not spray on surface for longer than 60 seconds/kg. We recommend that you wait at least 1 hour before consuming the treated product (REG.EU.1333/2008)
Information about spray cans
Hazard and safety information for all spray cans in our range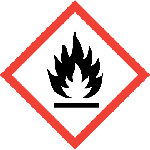 Hazard statements
- Extremely flammable
- Container is under pressure
- Explosive mixtures may form in inadequately ventilated spaces.
Safety instructions:
- Protect from sunlight and temperatures above 50°C.
- do not open by force or burn, even after use
- Do not spray on a flame or a glowing object.
- keep away from sources of ignition - do not smoke
- keep out of the reach of children
- discard container only when completely empty
- Do not spray into eyes
- avoid excessive use
- do not inhale vapours directly
- use only in well-ventilated areas
- the product sprayed with food spray must rest for at least 1 hour before it can be eaten
Det vil måske også interessere dig