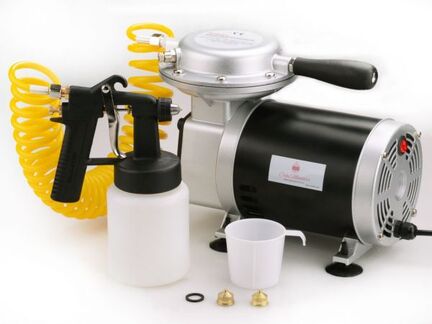 Spraygun set
€ 131,65
Item number: MK013788
Spraygun set
For extensive airbrush works
Prices are incl. VAT
You will receive a spraygun set suitable for extensive paintworks. You can spray complete cakes or showpieces with colors respectively food color or liquid cocoa butter for a velvet look. For a wonderful, dark velvet look mix e.g. 300g liquid dark chocolate and 400g liquid cocoa butter. When spraying with cocoa butter please take care that the object or the working place / room is cold enough, thus the cocoa butter does not bind with object.
High-quality airbrush compressor supplies a constant airflow and provides reliable performance of max. 3.5 bar.

The spraygun can be used with a jet nozzle or spray nozzle (1.3mm). The color tank holds volume of 750ml. The compressor is oil-free and maintenance-free and suitable for art, hobby, make-up, finger nails, bodypainting and of course cake design.

Delivery including supply for airbrush pistol.

Technical data:
- Performance: 250W
- Air pressure: max. 3.5bar
- Weight: 9.5kg
- Size: 36x17x23cm
Power consumption: 230V
Airbrush spraygun incl. Jet and spray nozzle 1.3mm
Color tank: 750ml